Elitery delivers service as one stop solution specialty in IT Managed Services and IT Consulting Services in Indonesia and several countries (offshore managed services).
Elitery has many proven experience working with national and international clients to bring them into a new level of efficiency and agility.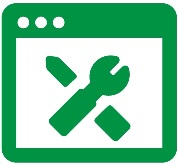 Complete IT Managed Services

Server Procurement and Management Services

Server procurement involves both strategic and administrative responsibilities. It also includes the creation and management of request for quotations (RFQs), requests for proposals (RFPs), requests for information (RFI) and managing supplier relationship. Day-to-day tasks may include conducting market research, negotiating pricing, establishing terms and conditions for services, resolving invoice discrepancies, and communicating the status of purchases with internal customers. We will be handling all of these tasks as your trusted IT managed services partner and converting capital expenditure into operation expenditure.
Find out more our server procurement and management services.
Application Management Services

Application management (AM) is the process of managing the operation, maintenance, versioning and upgrading of an application throughout its life cycle. AM includes best practices, techniques and procedures essential to a deployed application's optimal operation, performance and efficiency throughout the enterprise and back-end IT infrastructure.
See more about our application management services.
Network Management Services

A broad range of functions that include activities, methods, procedures, and the use of tools to administrate, operate, and reliably maintain computer network systems. Our Network Management Services provides monitoring and management expertise to keep your network running at its best. It also can minimize network downtime, increase application performance, and meet new networking requirements.
Let's find out more about Elitery's Network Management Services.
Storage Management Services

By understanding the amount and type of data you have along with the motivation behind storing the information, and All data is not created equal, we can suggest combining multi-structured data from your transactional systems before suggesting which storage solution fits to your data. Elitery using leveraged technologies for deduplication, snapshotting and cloning with constantly tests along with you disaster recovery plans.
See our storage management services.
Desktop Management Services

Through outsourcing, you will gain a cost-effective and flexible solution to your desktop needs. Focusing to deliver solution for managing all end user problems at the time. With Elitery streamlining desktop support, could drive your costs down and productivity up.
Let's see more about our desktop management services.
Security Management Services

IT security management (ITSM) intends to guarantee the availability, integrity and confidentiality of an organization's data, information, and IT services. IT Infrastructure Library (ITIL) security management generally forms part of an organizational strategy, to security management that has a broader scope compared to an IT services provider.
See more about the security management services.

All of Elitery managed IT services can be combined with Elitery data center services. We keep your non-stop IT infrastructures guarded.
Let's become one of our satisfied customer..