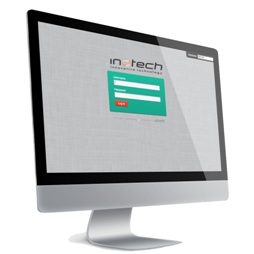 ELITRACK is a innovative enterprise asset monitoring tools that run both on desktop and modern mobile devices. It is designed to help enterprises monitor, manage, and do an assessment on their precious assets, both in the office and in the fields.
ELITRACK is designed with simplicity in mind. It can be integrate with other enterprise applications used within the organization, it also can be deployed across a variety of networks while meeting the strict requirements for security and administration management.
---
Use of Application
We always aim our application to give it user the best convenient experience.
That is why we believe that ELITRACK helps it users to:
Improve asset analysis
Facilitate compliance efforts
Plan shutdown/reboot
Maintain management integrity
Align roles and responsibilities
Facilitate continuous improvement
Improve organizational learning
---
Tagging Application (RFID And Barcode)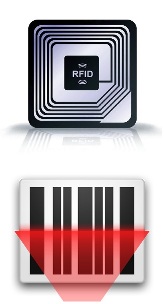 The Radio-frequency identification (RFID) allows automatic identification and tracking from a tag attached to an object.
RFID are an ideal solution to help stay organized, informed about your supply, and prepared for future needs.
Our RFID solutions support a broad range of RFID tags and labels, from low-cost tags and labels for general item, to rugged, high-performance tags built to withstand harsh environment and challenging surface applications.
We also offer a traditional barcode system as a more affordable solutions. ELITRACK already have  a built-in supports for both of this automatic tagging technologies.
---
RFID Reader
We use the ATID AT-870 Handheld UHF RFID Reader that designed to provide long range reading for EPC Class 1 Generation 2 RFID tags.
Its outstanding performance and read range are perfect for mobile inventory and asset tracking, packaging and shipping, as well as records and file tracking.
ATID AT-870 Specifications
3.5″ Touch LCD
Windows CE5.0
Marvell™ PXA 270 520Mhz
Memory 128MB RAM / 256MB ROM
1D or 2D Barcode Reader
RFID UHF 900MHz GEN2, ISO/IEC 18000-6C / 18000-6B (Option)
HF 13.56MHz ISO15693, MIFARE, ISO14443 A/B (Option)
Wireless LAN 802.11 b/g
Modem 2G(GSM/GPRS/CDMA)
Bluetooth
Camera with Flash
GPS
Cradle
Gun Handle Grip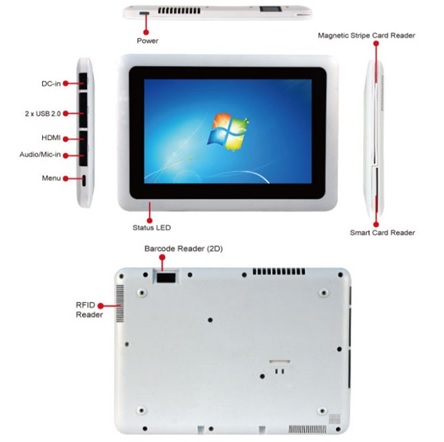 For more convenient and affordable solutions we're also offer the Windows or Android based Industrial Tablet PC with RFID or Barcode reader capabilities.
This Tablet PC is suitable for mobile personnel.
General Specifications:
10.1" TFT LCD with capacitive touch
Intel® Celeron™ 1007U 1.5 GHz/ Intel® Core™ i7-3517U processor
Powered by Windows Embedded Standard 7
Built-in Bluetooth and Wi-Fi
Smart card reader and magnetic stripe card reader
1D/2D barcode reader, and 13.56 MHz RFID reader
Optional Windows® 8 operating system
---
RFID Gate System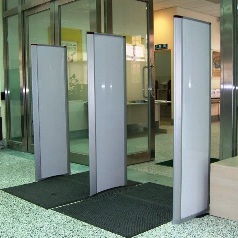 An RFID gate is a physical gate with a fixed RFID reader and antennas attached to it.
The gate scans all tagged items that move through it. The system uses the same technology as RFID mobile computers, except for that everything works automatically and no manual labor is required.
The automated operations make RFID gates a faster and more accurate way for checking goods compared to scanning everything manually with an RFID mobile computer.
RapidGate 600 General Specifications
Detect uncheck items at exits.
Wide aisle width to create a welcome and friendly
Provide sound and light alert on detection
Easy to install and set up
Record visitor and alarm count
Multi-items detection in any orientation
Can be use condition Online / Offline
Multi range long distance up to 3 Meters width
Dimensions: 1440 x 540 x 80mm (H x W x T)
Operating frequency: UHF 923-925MHz (For use in Indonesia)
Operating temperature: -10℃~+50℃
Comply with ISO 18000-6C standard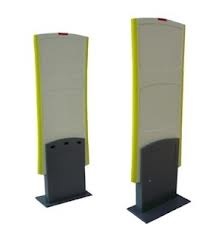 ---
Desktop UHF Reader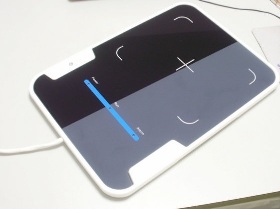 The Desktop Reader UHF G2 Reader served as part of registration process of ID Tags G2 and process the Turn On/Off Alert Alarm System (Set EAS) when the tag detected at Gate Detector.
Supports RS232, RS485, Wiegand 26/34
Ideal  1 – 10 cm card reading/writing distance
Small form factor ideal for desktop placement
---
RF Tag UHF G2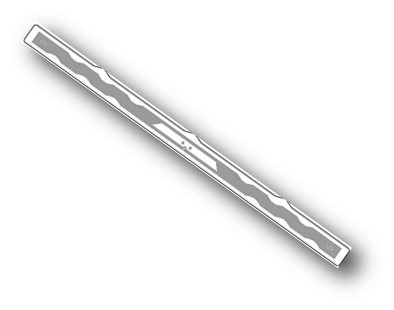 TAGRFID  Frequency UHF G2 inlay,
Total memory of 752 bits for item related information with
password protection
Small and slim design for easy concealed in book
Dimensions: 95.4 x 5.5 x 0.28mm (L x W x T)
Operate within UHF 860-960MHz frequencies
Bi-directional data link without line of sight
Comply with ISO 18000-6C standard
Anti-collision algorithm for multi tag detection
Read write multiple times more than 100k times
Reading distance up to 5m from UHF fixed reader antenna
---
Middleware Application

---
Implementation of ELITRACK In Food and Catering Services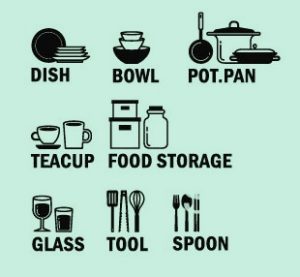 Due to the addition of the RFID tags in cultery sets, more accurate and historic information about product and usage can be gathered. Hence, this new information RFID-based system helps to achieve better inventory control, improve events management such as cold-storage room replenishment, or reduce products close to expiration date.
RFID allows automatic identification, locating and tracking of objects by means of electro-magnetic waves. We proposed this technology to enhance the logistic chain for aircraft catering by labeling and monitoring all goods moved to or from an aircraft
---
Implementation of ELITRACK in Vehicle Telematics System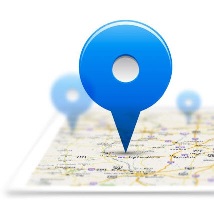 With today's advanced capabilities in cellular and satellite communication, we can use GPS tracking devices for trucks, vehicles, barges and equipment, to better manage your mobile resources, no matter where they are located. ELITRACK offers GPS tracking solutions customized specifically to your business needs, so that you can receive detailed reporting on your vehicles, employees and inventory while significantly cutting costs.
---
Vehicle Telematic Features
How it Works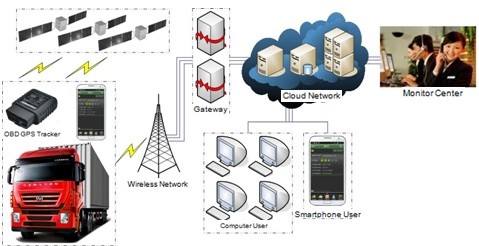 System Function
Vehicle trace: query current location, play back historical trace, check real-time trace
Anti-theft: set alarm, remove alarm.
Driving behavior: over speed, harsh acceleration, harsh deceleration, harsh turn, high revolution, revolution mismatch speed, long idling.
Fuel consumption management: speed-fuel consumption curve, section speed time length, fuel consumption statistics, driving mileage statistics.
Repair and maintenance: maintenance notice, maintenance record, add record, fault scanning.
---
Employee Tracking Using RFID Technology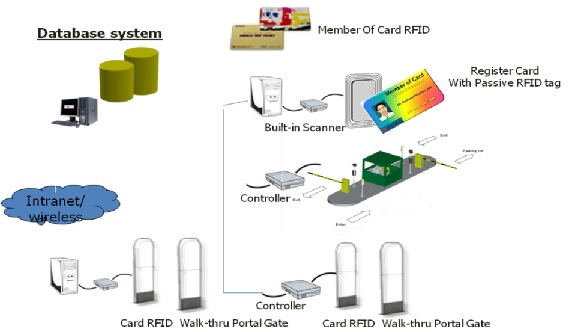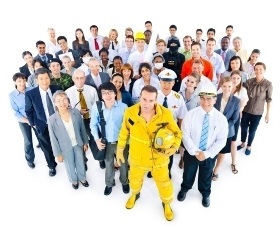 Both detection and tracking people are challenging problems, especially in complex real world scenes that commonly involve multiple people, complicated occlusions, and cluttered or even moving backgrounds. The identification of particular individuals has remained challenging as well.
With RFID technology embedded in a single employee identification card, we combine the advantages of both detection and tracking in a single framework.
Wherever your employees need to go, ELITRACK is ready to track time and location from the time an employee clocks in until the time they clock out.
---
Livestock Identification and Traceability System (LITS)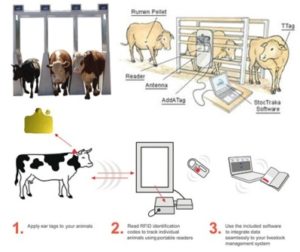 A Livestock Identification and Traceability System (LITS) incorporates radio-frequency identification  (RFID) as a tools to enhance animal health and food safety.
This system provides a very efficient method of identifying and collecting data from animals.
Each RFID tag can be linked to a database that includes animal's specific information such as BOD, inoculations, blood relation, and more. This data can be accessed from anywhere within the internet.
LITS Animal RFID Tags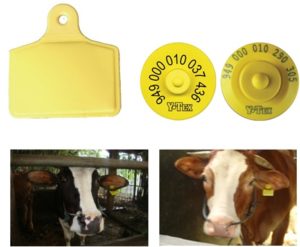 The livestock RFID tag targeted to cattle management which demands long operating distances and high anti-collision rates.
The tag consists of 860-960 Mhz transponders that are compliant with EPCglobal Class 1 Gen 2 and ISO18000-6C, offering exceptional read/write performance