Data Center Environmental System
Elitery Data Center uses state-of-the art Environmental System Technology which provides high environment stability required to run mission-critical operation. We put the best data center environmental system on day to day operation.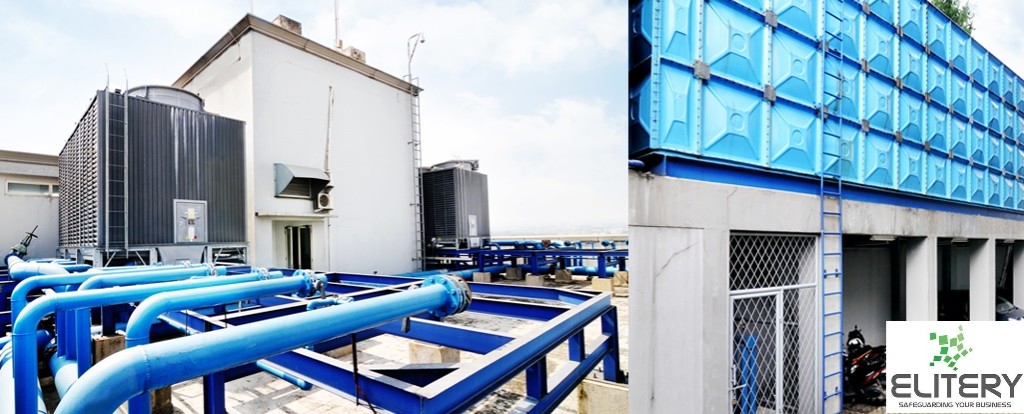 Water Cooling System
N+1 Total Redundancies Water Cool Chiller System, insure in the event of a single component failure, the chiller system will continue to satisfy the cooling requirements of the critical load.
N+1 Total Redundancies Chilled Water Piping System, by optimizing chilled-water production we have reduce data center energy consumption. We use dual feed chilled water pipe on ring topology under raised floor.
Our water cooling system also supported by chilled water tank for emergency cooling backup up to 30 minutes, depending on load.
Temperature Control
Temperature maintained at +/- 20 °C with N+1 Dual Coil Precision Air Conditioning System to control the temperature and humidity range of 45% (+/-­10%) inside the data center and building facilities , equipped with sensors to detect overflow such redundant duel coil CRAC parameter cooling to create a consistent airflow that streams throughout the room, it can increased equipment up-time and longer hardware life.
Continuous Gas Supply
We use the gas supply from PGN (Indonesia government owned gas company) for our chiller engine which able to produce a constant level power.
Building Management System
We use the most capable and scalable building management system to centralized out data center environmental system and monitoring. It provides with essential instrumentation and control to coordinate, regulate and manage our building systems.